No wife material out there anymore. A girl spent the night at my place and I asked her to cook rice. She cooked it in my kettle because she didn't want to spoil her nails when washing the dirty pots. This generation is in trouble 😭"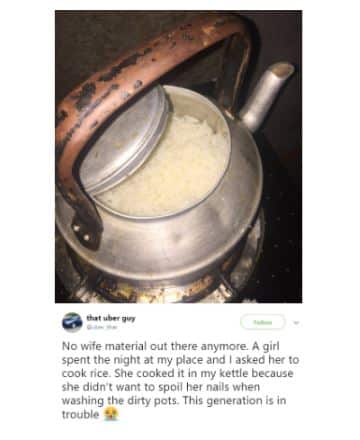 As expected, this drew a lot of reactions, as people called him how for keeping dirty pots.
See reactions below;
@Donfranconero – If she didn't want to stain her nails,why couldn't you wash it yourself?
Or would you have given her money to remake those nails?
@enitioluwafe – It's even camping gas. Whatever happened to double or triple burners with hot plate? Poverty is a disease. He should rather focus on stepping up his game. The girl tried sha. As my friend @demolaskid would say, she got the reward for being a 'Bob, the builder'. Shior.
@Zeekahthegreat – You aren't even glad she went through the stress, dating a disorganised person like that can't even wash his own pots must be really tiring. If you check well, it's not your money she used in making those nails, but she should destroy it washing your stupid pots…
@Naijasinglegirl – No husband material out there anymore. Look at the poverty stricken kettle and dirty looking stove of a man that wants to marry. Go and make money first sir. This generation is in trouble